The 'Sari' Renaissance: Make in India inspires Manish Malhotra's 'Regal Threads'
When Mohandas Karamchand Gandhi decided to spin his own yarn and weave his own fabric, he wanted to inspire India to be self sufficient and to not be dependent or enticed by the western goods or lifestyle.
Inspired by Gandhiji, the Indian Prime Minister Narendra Modi's "Make In India" campaign has come full circle. India is searching within its roots. For years, Indian fashion designers have seeked to break the rules and juxtapose Indian fashion alongside the trends in New York, Paris and Milan.
On the other hand, designers & high end labels from New York & Paris have looked to India for inspiration.
Drawing from the authentic, hand-crafted one of a kind techniques in a modern context to the adventurous, uniquely-spirited luxury clientele.
#MIJWAN @AzmiShabana @MMalhotraworld @mantagoyal #WOMEN #empowerment #Mijwan Welfare Society pic.twitter.com/p2CtBu9nvO

— Manish Malhotra (@ManishMalhotra) February 28, 2016
In Mumbai, where Bollywood and Indian fashion collide & collaborate, there is a new buzz.
Underneath one of Manish Malhotra's showrooms, stretched across a large table are the latest saris fresh off the looms. The new collection "Regal Threads" is singing an old tune. Silks, Benarasis and woven using handlooms, just imperfect enough to be authentic in technique & texture.
"I am so happy the sari is back the way it used to be," Malhotra says, of his decision to create these pieces using the handloom rather than power loom – a rewind to the original craftsmanship of the sari.
'The Regal Threads' by @ManishMalhotra #firstever #Banarasi #checkered #handloom #textiles #2016yearoftextiles pic.twitter.com/PB2eTTAmR2

— ManishMalhotraWorld (@MMalhotraworld) February 25, 2016
His team checks and irons the saris before delivering them to the shop floor.
For Malhotra is all about breaking the rules, and in the world of power looms and 3D printing, the slightly rustic, hand made in India has now made a comeback.
But, its not just technique, 'Regal Threads' is modern and fresh. Using traditional Benarasi brocade, overlaying bold, gold florals & paisleys on distinctively western plaids and stripes in neutral grays and blacks, Malhotra is able to blend the traditional and authentic with chic & modern.
Malhotra is among a wave of fashion designers enthused by the "Make In India" campaign. Launched in 2014, it aims to encourage business across the Globe to manufacture their goods in India.
In a recent interview with Diya TV, designer Anita Dongre says she has and continues to find inspiration in India. Her modern and traditional mix has garnered the attention of the diaspora worldwide and she plans to open a boutique in New York later this year.
Gaurav Bhatia, a luxury consultant and trend spotter, says, "[In the late 1990s], the sari fell out of favor in lieu of 'Indo-Western' wear, a trend that allowed a certain amount of casualness and perceived modernity, with kurtis (short, trendy tunics) and churidars (tight pants aka. The Indian legging)."
In 2011, LVMH's Hermes launched a new line of saris for the Indian market. The Hollywood counterparts in India rocked the same designers from the west, until an option such as Hermes became available.
The Indian retail industry is a multi-billion dollar industry and the brands from the west now want a piece. Even brands such as Mango, Marks & Spencer and Zara began to arrive on the Indian high street – making Western clothing accessible and affordable. Make in India, however, has fostered a patriotism that has been critical in swaying Indian consumers back to the sari, says Bhatia.
"There's now a great deal of pride in dressing Indian and wearing Indian. While the sari got lost for a while — with women in urban India choosing the convenience of Western wear — it's now making a comeback.
"It's about embracing one's culture organically, and it's cool to do so."
The decision by Malhotra, and other designers, to return to the sari's roots has been well received.
"I feel like a million bucks when I wear handloom saris," says Gayatri Rangachari Shah, vice president for Tina Brown Live Media India.
"I know I am supporting weavers who need help in accessing new markets and customers. So many of our crafts are dying and it would make a big difference if everyone did their bit to support our centuries old talent."
Shah is not alone: while spending on luxury goods in India grew 25 per cent in 2014, according to research firm Euromonitor, international brands still only account for a tiny share of the market.
Indian consumers favor foreign brands when it comes to shoes, bags and watches, they prefer traditional dress when it comes to clothes.
In the south Indian city of Bengaluru, entrepreneurs Ally Matthan and Anju Maudgal Kadam last year started a viral campaign.
The #100sareepact asks women to make a pledge to wear a sari twice a week — or 100 times a year — and share images of them doing so on social media.
With over 800 followers on Twitter, and with more than 7,500 posts under the hashtag on Instagram, the campaign has seen women post not just pictures of their saris, but has also sparked debate on drapes and weaves, and inspired women to share the stories behind their saris.
Sangeeta Mhatre, who works for an international bank in Mumbai, is halfway into the year-long #100sareepact commitment, and says she has been pleasantly surprised by how her sari has been received in the office.
"I find that saris command a lot more respect than any other form of office wear, and actually make a power statement the Indian way," she says.
Malhotra, of course, is a man who understands the power of social media on fashion. The 50-year-old designer has over 700,000 Instagram followers, and believes the platform is helping fuel the renaissance of traditional craftsmanship in the sari market.
"I respect social media for that … there's a lot of awareness celebrating art and crafts, and culture, and tradition," he says.
"Various designers are doing interesting things with handloom and textiles and I think, for me at Manish Malhotra as a label, as a designer, as a person, its very exciting for me to do a lot of textile and most importantly is to get the sari back [in fashion]."
@ManishMalhotra Spring Summer 2016 Which is MUST buy for summer brides.
#MMalhotra #bridehttps://t.co/GHzl4PVxbs pic.twitter.com/2zPbrR356m

— eventznu (@eventznu) February 26, 2016
With the Spring Summer 2016 collection of Regal Threads, Malhotra is doing just that.
*This article was first published on CNN.
Big night for South Asians, Riz Ahmed and Aziz Ansari take home Emmy's
LOS ANGELES (Diya TV) — British-Pakistani actor Riz Ahmed claimed a 2017 Emmy for Outstanding Lead Actor in a Limited Series.
Portraying Nasir "Naz" Khan in The Night Of, Ahmed plays a Pakistani college student who becomes caught up in a homicide investigation. His character also spends time in prison.
"I want to say it is always strange reaping the rewards of a story based on real-world suffering," Ahmed said when accepting the honor. "But if this show has shown a light on some of the prejudice in our societies, xenophobia, some of the injustice in our justice system, then maybe that is something."
Ahmed also thanked the South Asian Youth Action for "helping me prepare for this and The Innocence Project."
"I don't know if any one person's win of an award or one person snagging one role or one person doing very well changes something that's a systemic issue of inclusion," Ahmed later said in a press statement. "I think that's something that happens slowly over time."
Prior to Ahmed winning his Emmy, only one other person of Asian descent had won an Emmy. Archie Panjabi won Outstanding Supporting Actress in a Drama Series in 2010 for her portrayal of Kalinda Sharma on CBS's The Good Wife.
The 34-year-old actor, also known as Riz MC has starred in an array of films. He was first known for his roles in independent films The Road to Guantanamo (2006), Shifty (2008), Four Lions (2010), Trishna (2011) and Ill Manors (2012). His breakthrough role was in Nightcrawler in 2014 alongside Jake Gyllenhaal. His recent film credits include Una, Jason Bourne and the first Star Wars Anthology film, Rogue One.
Known for politically-motivated rap lyrics, he also has fostered success as a musician. He has been active in charitable work, raising funds for Syrian refugee children. His film accolades and advocacy and charity work earned him a spot on the annual Time 100 list of the most influential people in the world in 2017.
#TheNightOf star Riz Ahmed: "I don't think any one award changes the systemic problem of inclusion" #Emmys pic.twitter.com/OKzli6t14O

— Variety (@Variety) September 18, 2017
Aziz Ansari and Lena Waithe won the Emmy for 'Outstanding writing for Comedy Series' for the episode 'Thanksgiving' in the second season of Netflix's 'Master of None'. As the duo walked up to the stage to accept the Emmy, the crowd started to clap and slowly rose to a full blown standing ovation. Waithe gave the acceptance speech, thanking Aziz for "making me co-write" and thanked her "LGBTQIA family" adding "I see each and every one of you"
Ansari and Waithe beat Alec Berg of 'Silicon Valley', Donald Glover & Stephen Glover of 'Atlanta' and Billy Kimball and David Mandell of 'Veep'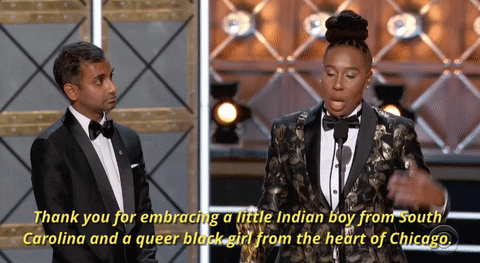 Grammy nominated Indian American singer Raja Kumari signs with Sony Music
NEW YORK (Diya TV) — Grammy nominated singer and songwriter Raja Kumari has inked a recording and exclusive representation management agreement with entertainment giant with Sony Music.
NEW YORK (Diya TV) — Grammy nominated singer and songwriter Raja Kumari has inked a recording and exclusive representation management agreement with entertainment giant with Sony Music.
Known for being a talented lyricist, rapper and recording artist, her music combines classical Indian roots with hip hop and rap, creating a unique style of music. The 31-year-old has composed music for Iggy Azalea, Gwen Stefani and Fifth Harmony. She has also worked with Timbaland, AR Rahman, Tricky Stewart and Fall Out Boy.
"It is really exciting and inspiring to be in India right now. I have always wanted my music to be the bridge between the East and West. I want to push the south Asian profile forward worldwide and I think working with an amazing team of Sony Music will help me achieve this," Kumari said in a statement from Sony Music. "I believe this is just the beginning of my journey in the motherland and I know that together we will create some amazing music for the people worldwide. I'm here to make history!"
!"
"Her global music sensibilities and song-writing will resonate equally with the Indian as well as the international audience," said Rohan Jha, Pop Lead at Sony Music India. "We feel we have an exceptional artist on board, and we are sure she will enthrall music fans across the globe."
Her first song, penned for Iggy Azalea, "Change your Life," was nominated for a Grammy Award. She also wrote six songs for Gwen Stefani's "This Is What the Truth Feels Like," album, which debuted number one on the Billboard Top 200 chart in 2016.
Her debut single 'Mute' is fostering rave reviews. Sony is set to release her next single soon, under their renowned label.
Three Indian-American Writers named among 2017 Henry Award Winners
SAN FRANCISCO (Diya TV) — Indian-American authors Shruti Swami, Amit Majumdar and Jai Chakrabarti were named among the 2017 class of the Henry Awards, distributed annually to commemorate short stories of the highest merit.
First presented in 1918 and funded by the Society of Arts and Sciences, the PEN/O. Henry Prize Stories is an annual collection of the year's twenty best stories published in U.S. and Canadian magazines.
Swami, who garnered the honor for the second time in as many years, was selected for her works on Night Garden. The San-Francisco resident was Vassar College's 50th W.K Rose Fellow in 2012, and has been awarded residencies at the Millay Colony for the Arts, Blue Mountain Center, Hedgebrook, and Willapa Bay AiR. She is a Kundiman Fiction Fellow and a 2017-2018 Steinbeck Fellow at San Jose University.
Amit Majumdar, who is a nuclear biologist by trade, is also Ohio's first poet laureate. He was selected for his short-story, Secret Lives of the Detainees, published by Kenyon Review. Majumdar grew up in Cleveland and currently works as a diagnostic radiologist specializing in nuclear medicine practicing full-time in Columbus, where he lives with his family.
Majumdar's poems have appeared in The Antioch Review, Image, Poetry, Poetry Northwest, National Poetry Review, The New England Review, Smartish Pace, and The New Yorker.
Chakrabarti won the award for his work, A Small Sacrifice for an Enormous Happiness, published by A Public Space. He is a 2015 "A Public Space Emerging Writer's Fellow" and a graduate of the Brooklyn College MFA program. His previous works have appeared or is forthcoming in Barrow Street, Hayden's Ferry Review, Coffin Factory, Union Station, and A Public Space. Chakrabarti lives in Brooklyn with his family.
Tahmima Anam, a celebrated writer from Bangladesh who also won the 2008 Commonwealth Writers' prize, was also named to the list of 2017 winners.