Daring to unshackle, 'Lipstick Under My Burkha' opens 15th annual IFFLA
LOS ANGELES (Diya TV) —
The 15th annual Indian Film Festival kicked off Wednesday evening with the opening night film
Lipstick Under My Burkha
. One of the words that stood out during red carpet interviews was 'bold'. This is absolutely the case with the opening night film. It is apparently so bold that it is currently banned in India because according to the Censor Board, it is
"too lady oriented"
.
The director Alankrita Shrivastava and one of the lead actresses Aahana Kumra were in attendance and talked about the film during the Q&A after the screening. Kumra reminisced in front of a sold out crowd, her first thought about Shrivastava when she read script, "Man! This woman has guts to write a film like this!"
The film is set in the old town part of the city of Bhopal in Central India and the story follows the public and private lives of four women – two Hindu, two Muslim, living in close proximity sharing more than they know, in common.
The world around them and their circumstances stifle their lives but they all rebel in their own ways to follow their dreams. "It represents a lot of truth of the existence of women in India…there is a lot of discrimination against women" explained Shrivastava. The film blends these characters well by switching between them in a way shows how different and similar they all are.
Although entirely fictional, Shrivastava says, the film exposes the real truths of the life of women in India. 
The four women despite their different lives, lead a very similar existence, one that is shackled by societal expectations suffocating their dreams.
A widow and a matriarch is expected to be there for managing financials affairs and protecting the family property from greedy builders, but never again to dream of sex let alone, love or romance. A teenager in college who hides her Rock'n'Roll persona under a burkha. A young woman who is being forced into a marriage with man she does not love. A young mother in a loveless marriage with an oppressive man.
The film shows how each one of these women in their own secretive and bold ways try to unshackle themselves, daring to dream as they gasp for freedom against the contrasting backdrop of Bhopal. A city that suffered a huge tragedy in 1984, caused by a gas leak causing thousands of deaths and long term injuries leaving the city divided with no development in the old city and a newer more modern and developed part of town.
The young and gifted director shines when you look at the contrast in Bhopal as analogy to the the old traditions and societal norms these women abide by and the new world they want to build and live in. When asked why was the film set in Bhopal,  Shrivastava shares, "I wanted a place where Hindus and Muslims live in close proximity because two of the characters are Muslim and the other two are Hindu". She adds, "I liked how the small town aspect captured the essence of old and new and the changes that are reflected in the town as well as the characters."
While a crowd of nearly 500 film-lovers filled the theatre to watch this film at the Regal LA Live in Los Angeles, the film might never see the light of day in India.
Currently the film cannot be distributed or shown in India, without the appropriate approval and certification by the Censor Board, Shrivastava says, she is hopeful. When the Censor Board wanted to label the film 'pornographic', Shrivastava and Kumra point out how this reaction is really telling of the "patriarchal society in India trying to control change".
However Shrivastava is not backing down, screening the film world wide, showing at festivals and with the support of her producers, fighting the Censor Board through a legal course of action. When asked if she feels scared or concerned about her safety, to be taking on hundreds of year of Indian patriarchy, Shrivastava responds with a sublime clarity, "there's no other way!"
She also takes comfort in the fact that so far the film has received a lot of positive reaction and she notes that wherever it screens, "people feel a heart to heart with the film." She believes, even though the film is set in India, viewers, especially women anywhere can associate with these characters because what women go through transcends culture and race.
Big night for South Asians, Riz Ahmed and Aziz Ansari take home Emmy's
LOS ANGELES (Diya TV) — British-Pakistani actor Riz Ahmed claimed a 2017 Emmy for Outstanding Lead Actor in a Limited Series.
Portraying Nasir "Naz" Khan in The Night Of, Ahmed plays a Pakistani college student who becomes caught up in a homicide investigation. His character also spends time in prison.
"I want to say it is always strange reaping the rewards of a story based on real-world suffering," Ahmed said when accepting the honor. "But if this show has shown a light on some of the prejudice in our societies, xenophobia, some of the injustice in our justice system, then maybe that is something."
Ahmed also thanked the South Asian Youth Action for "helping me prepare for this and The Innocence Project."
"I don't know if any one person's win of an award or one person snagging one role or one person doing very well changes something that's a systemic issue of inclusion," Ahmed later said in a press statement. "I think that's something that happens slowly over time."
Prior to Ahmed winning his Emmy, only one other person of Asian descent had won an Emmy. Archie Panjabi won Outstanding Supporting Actress in a Drama Series in 2010 for her portrayal of Kalinda Sharma on CBS's The Good Wife.
The 34-year-old actor, also known as Riz MC has starred in an array of films. He was first known for his roles in independent films The Road to Guantanamo (2006), Shifty (2008), Four Lions (2010), Trishna (2011) and Ill Manors (2012). His breakthrough role was in Nightcrawler in 2014 alongside Jake Gyllenhaal. His recent film credits include Una, Jason Bourne and the first Star Wars Anthology film, Rogue One.
Known for politically-motivated rap lyrics, he also has fostered success as a musician. He has been active in charitable work, raising funds for Syrian refugee children. His film accolades and advocacy and charity work earned him a spot on the annual Time 100 list of the most influential people in the world in 2017.
#TheNightOf star Riz Ahmed: "I don't think any one award changes the systemic problem of inclusion" #Emmys pic.twitter.com/OKzli6t14O

— Variety (@Variety) September 18, 2017
Aziz Ansari and Lena Waithe won the Emmy for 'Outstanding writing for Comedy Series' for the episode 'Thanksgiving' in the second season of Netflix's 'Master of None'. As the duo walked up to the stage to accept the Emmy, the crowd started to clap and slowly rose to a full blown standing ovation. Waithe gave the acceptance speech, thanking Aziz for "making me co-write" and thanked her "LGBTQIA family" adding "I see each and every one of you"
Ansari and Waithe beat Alec Berg of 'Silicon Valley', Donald Glover & Stephen Glover of 'Atlanta' and Billy Kimball and David Mandell of 'Veep'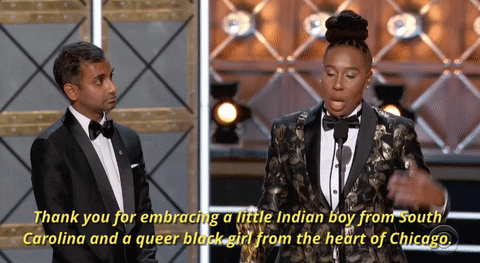 Grammy nominated Indian American singer Raja Kumari signs with Sony Music
NEW YORK (Diya TV) — Grammy nominated singer and songwriter Raja Kumari has inked a recording and exclusive representation management agreement with entertainment giant with Sony Music.
NEW YORK (Diya TV) — Grammy nominated singer and songwriter Raja Kumari has inked a recording and exclusive representation management agreement with entertainment giant with Sony Music.
Known for being a talented lyricist, rapper and recording artist, her music combines classical Indian roots with hip hop and rap, creating a unique style of music. The 31-year-old has composed music for Iggy Azalea, Gwen Stefani and Fifth Harmony. She has also worked with Timbaland, AR Rahman, Tricky Stewart and Fall Out Boy.
"It is really exciting and inspiring to be in India right now. I have always wanted my music to be the bridge between the East and West. I want to push the south Asian profile forward worldwide and I think working with an amazing team of Sony Music will help me achieve this," Kumari said in a statement from Sony Music. "I believe this is just the beginning of my journey in the motherland and I know that together we will create some amazing music for the people worldwide. I'm here to make history!"
!"
"Her global music sensibilities and song-writing will resonate equally with the Indian as well as the international audience," said Rohan Jha, Pop Lead at Sony Music India. "We feel we have an exceptional artist on board, and we are sure she will enthrall music fans across the globe."
Her first song, penned for Iggy Azalea, "Change your Life," was nominated for a Grammy Award. She also wrote six songs for Gwen Stefani's "This Is What the Truth Feels Like," album, which debuted number one on the Billboard Top 200 chart in 2016.
Her debut single 'Mute' is fostering rave reviews. Sony is set to release her next single soon, under their renowned label.
Three Indian-American Writers named among 2017 Henry Award Winners
SAN FRANCISCO (Diya TV) — Indian-American authors Shruti Swami, Amit Majumdar and Jai Chakrabarti were named among the 2017 class of the Henry Awards, distributed annually to commemorate short stories of the highest merit.
First presented in 1918 and funded by the Society of Arts and Sciences, the PEN/O. Henry Prize Stories is an annual collection of the year's twenty best stories published in U.S. and Canadian magazines.
Swami, who garnered the honor for the second time in as many years, was selected for her works on Night Garden. The San-Francisco resident was Vassar College's 50th W.K Rose Fellow in 2012, and has been awarded residencies at the Millay Colony for the Arts, Blue Mountain Center, Hedgebrook, and Willapa Bay AiR. She is a Kundiman Fiction Fellow and a 2017-2018 Steinbeck Fellow at San Jose University.
Amit Majumdar, who is a nuclear biologist by trade, is also Ohio's first poet laureate. He was selected for his short-story, Secret Lives of the Detainees, published by Kenyon Review. Majumdar grew up in Cleveland and currently works as a diagnostic radiologist specializing in nuclear medicine practicing full-time in Columbus, where he lives with his family.
Majumdar's poems have appeared in The Antioch Review, Image, Poetry, Poetry Northwest, National Poetry Review, The New England Review, Smartish Pace, and The New Yorker.
Chakrabarti won the award for his work, A Small Sacrifice for an Enormous Happiness, published by A Public Space. He is a 2015 "A Public Space Emerging Writer's Fellow" and a graduate of the Brooklyn College MFA program. His previous works have appeared or is forthcoming in Barrow Street, Hayden's Ferry Review, Coffin Factory, Union Station, and A Public Space. Chakrabarti lives in Brooklyn with his family.
Tahmima Anam, a celebrated writer from Bangladesh who also won the 2008 Commonwealth Writers' prize, was also named to the list of 2017 winners.